What is pneumatic compression therapy?
A dynamic or pneumatic compression system, is a compressor unit linked to a specialised garment which has various chambers (or pockets) which inflate and deflate with air pumped by the compressor such that the chamber of the garment applies direct pressure to the muscle area. The compression temporarily restricts blood circulation to the area and upon release, nutrient-rich blood rushes through the muscle tissue. The compression technique improves blood circulation, promotes lymphatic fluid movement, helps remove lactic acid, reduces inflammation, soreness, stiffness and improves flexibility thus stimulating recovery and enhancing performance.
Air Relax pneumatic compression system is supported by science
Air Relax designed its sport recovery system based on clinically proven methods to increase an athlete's circulation, reduce fatigue and soreness and improve their preformance. We believe recovery should form an integral part of every club's, athlete's, coach's training plan or physiotherapist's service to sport orientated clients.
Our team and network of professional triathletes, physical therapists, personal trainers, coaches and nutritional consultants combined with degrees in Molecular Medicine, Engineering and Physiology back the clinical research with their expertise to bring you the best in sports recovery and treatment technology.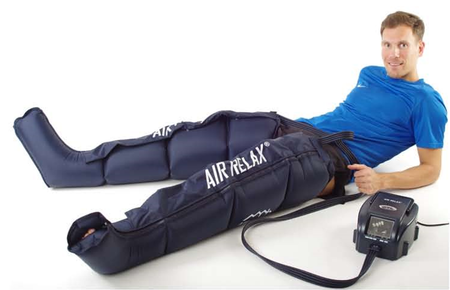 Air Relax Recovery System & Boots
£575
SHOP NOW